ENGRAVING
Text Engraving
We offer a text only engraving service on a wide variety of tags, enabling you to personalise your jewellery with dates, names, initials and words. We use a diamond drag engraver, which is a type of engraver which scratches the surface of the item to produce an etched engraving. CLICK HERE for a full list of engravable products, then choose your font and enter your personalised text.
Logo/Image Engraving
Take your brand to the next level by adding a logo or image to your jewellery. We use an in-house laser engraver which produces a more detailed finish than our diamond drag engraver. We offer a quick turnaround time and excellent customer service.
How it works:
You email us your graphics file.
We create a template for you and laser engrave your image onto your chosen item.
We mail the engraved item to you for approval.
Once approved the template will be used for all future orders of that item.
The costs:
£10 for initial template set up, plus the cost of the engravable item.
£2 per engraving per side for all further orders.
Interested?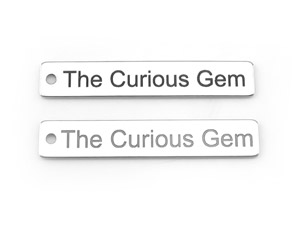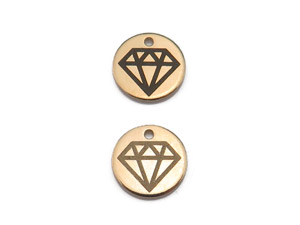 Add the product (quantity = 1) you would like to be engraved to your shopping basket (click here for engravable products - in theory we should be able to engrave any flat metal item on the website - please check with us if your chosen item does not appear in the engravable products category).
Email contact@thecuriousgem.co.uk with your order number and attach your image file
We will engrave your item and sent it out to you for approval. Please allow one week for us to engrave your item.
IMPORTANT: Image Advice
Your image must be high resolution - we can deal with most file types, eg .jpg, .eps, .pdf.
Simple, uncomplicated images work best.
Images/text with thin lines will be harder to read if no colour is selected
Long words are likely to be difficult to read, particular on our smaller tags.
Black engraving will make the image stand out; for a more subtle effect choose no colour.
We do not offer a graphic design service - we will engrave the image exactly as received.
If possible, please provide an image which includes lines showing the outline of the tag including the hole. This allows us to position and size the image within the tag as close as possible to your requirements. Click here for a document showing all our tags to scale.

How do I order once I have approved my template?
Add the product(s) you would like to be engraved to your shopping basket and tick the box "Engrave Approved Image?" in the product description.
We will engrave your items as quickly as we can, although it could take up to a week. If you add other products to your order these will be dispatched at the same time as your engraved item. If you want these to be dispatched within our usual 1-2 days then please place a separate order for them.